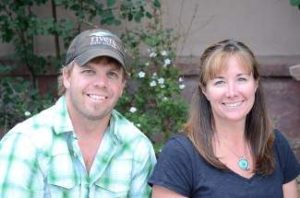 California gal Christy and Campy Campton, and original river child from the Colorado rafting mecca Buena Vista, met and fell in love in their 20's on a river trip with mutual raft guide friends.
The couple bought KODI Rafting in 2001 – Colorado's only rafting company owned and operated by a third generation Colorado boating family – and opened Rivers Clothing Company as an off-season project in 2003.
They ran the two businesses concurrently for nearly 13 years. During the summer, they welcomed their rafting family and took visitors from all over the world down Colorado's famous rivers. When the snow fell and the boats were put away, they focused on their thriving Frisco retail spot, Rivers.
In late 2015, the husband-wife team sold KODI Rafting and shifted focus to their mountain lifestyle apparel shop. Family-owned Rivers Clothing Company is proud to bring locals and visitors the very best in quality outdoor brands.
When they're not at the store, the Camptons can be found on the river, hiking with their dog Maizey Margarita and enjoying all that Summit County and Colorado has to offer.